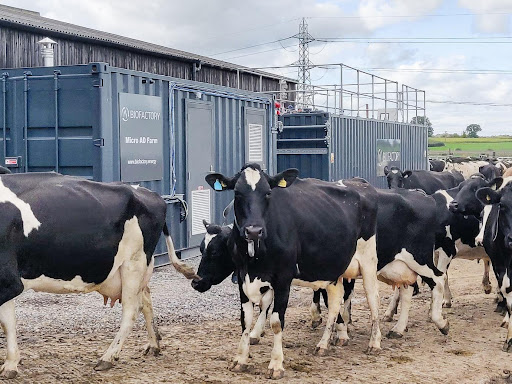 Opportunity to invest in breakthrough technology to address the UK Farm Energy Crisis
Published

November 25, 2022 6:17AM UTC

Publisher

Wholesale Investor

Categories

Company Updates
Micro AD FarmTM: Innovative slurry-to-energy technology for smaller dairy farms to reduce farm energy costs and GHG
Soaring electricity bills are driving smaller dairy farms (100 – 500 cows) to seek ways to mitigate the high cost of energy. In some cases, farmers have seen their electricity costs more than triple in 12 months.
However, dairy farms possess a large quantity of cow slurry. In normal storage conditions, slurry breaks down naturally through the process of anaerobic digestion ("AD") into methane, a potent greenhouse gas, that is lost to the atmosphere. Methane is a source of fuel that can be used to generate electricity and heat energy for use on farms, replacing expensive energy purchased from the grid. Whilst large farms (those with at least 500 cows) can afford to spend millions of pounds on industrial-scale AD plants to process slurry and capture the methane, until now, there has been no cost-effective solution for smaller farms.
The good news is that BioFactory has come up with a new approach that makes AD work at a micro-scale to address this sizable market gap and enable these smaller dairy farms to benefit from AD, thereby cutting farm fuel costs. Using its innovative, patentable technology, BioFactory's Micro AD Farm solution accelerates the AD process. This enables it to significantly miniaturise the technology and so house it in shipping containers, making it cheap to build, rapidly deployable and scalable. The payback period for the system is estimated at 3-7.5 years for the farmer, depending on energy prices.
Following a comprehensive independent system design review in 2021, Josh Henthorne, Technical Manager ADBA, commented:
"It's a pleasure to see new technology emerge to tackle the market gap for micro-AD in the UK,
supporting the Net Zero Farming challenge. The quality of the responses from the BioFactory team to the panelists' questions demonstrates a comprehensive understanding of the AD process and technical challenges associated with the implementation of the system."
BioFactory's system is squarely aimed at the smaller commercial dairy farm (those with 100 – 500 cows) that currently have no AD solution to enable them to harness the energy from their cow slurry. There are around 6,600 such farms in the UK giving a large addressable market of around £2B.
Chris Brake, 3rd Generation Somerset Dairy Farmer believes that:
'Micro AD Farm is going to fit in well with the current legislation on the restrictions on slurry – I think it's come at a really good time for the sector. It's just got Dairy Farmer written all over it.'
The system also helps combat climate change by reducing on-farm greenhouse gas emissions: In its first 25 years after emission, methane has 80 times the impact of CO2. BioFactory's solution captures the methane that would otherwise be emitted, and, by using it as a fuel, the methane is effectively converted into CO2, lowering overall farm CO2 equivalent emissions. A typical Micro AD Farm installation will cut CO2e by at least 20 tonnes each year.
Following equity raises totaling £270,000 in 2020 and 2021, alongside £670k of grant funding, BioFactory has been able to demonstrate that its technology works through the deployment of two first-generation prototypes on-farm in 2022. BioFactory is now seeking £400,000 investment to take the technology to the next stage, prior to full commercialisation in 2024. This will involve deploying two further prototypes on-farm in 2023, which will be the first third-party sales. These prototypes will be the final commercial design iteration and will enable BioFactory to gather more extensive performance data to validate the technology for both customers and asset finance companies. BioFactory has already received a high degree of interest from the farming community for Micro AD Farm and two further sales demonstrators will support its already healthy sales pipeline.
Jon Blake, BioFactory's CCO commented:
'Farm engagement has exceeded our expectations, with a number of local and national dairy farms and sector organisations keenly following our progress – the more we reach out to the dairy farming community to understand how the average dairy business is managing in these unprecedented times, the more we see the positive impact Micro AD Farm could have on these businesses.'
Watch how BioFactory's patentable system, which is built into shipping containers, captures methane so that it can be used to generate electricity and heat on-farm, thereby reducing farm energy costs whilst also reducing greenhouse gasses.
The innovative design enables slurry to be processed through the system in less than a third of the time of conventional systems, enabling the same volume of slurry to be processed in a much smaller, and therefore cheaper, system.
Company Updates
This is an opportunity to invest in easyHire's round alongside Sir Stelios Haji-Ioannou (founder of easyJet.com), Fabio Cannavale (owner of lastminute .com group), and PiLabs (Venture Capital). Highlights: ✅ 90% consumer brand recognition in Europe ✅ Existing franchise network in the UK, Italy, and Spain ✅ Average franchise signing up for 5 years ✅ Industry-changing […]
Company Updates
WAU, the British-built and engineered electric bike brand showing significant year-on-year growth with a CAGR of 73% over the past 2 years in the UK, is finally ready to expand internationally and already has pent-up demand in its key target market the USA. With a major new product launch for a brand new feature-filled Electric […]
Company Updates
BullionFX is a decentralised financial ecosystem built on auditable physical gold. The company aims to bring currency back to the gold standard that can be trusted again. BullionFX is democratising access and ownership of gold, allowing everyone to build their wealth safely in a new global economy. Just recently, BullionFX received Digital Currency Exchange (DCE) […]
Backed By Leading Investment Groups and Family Offices