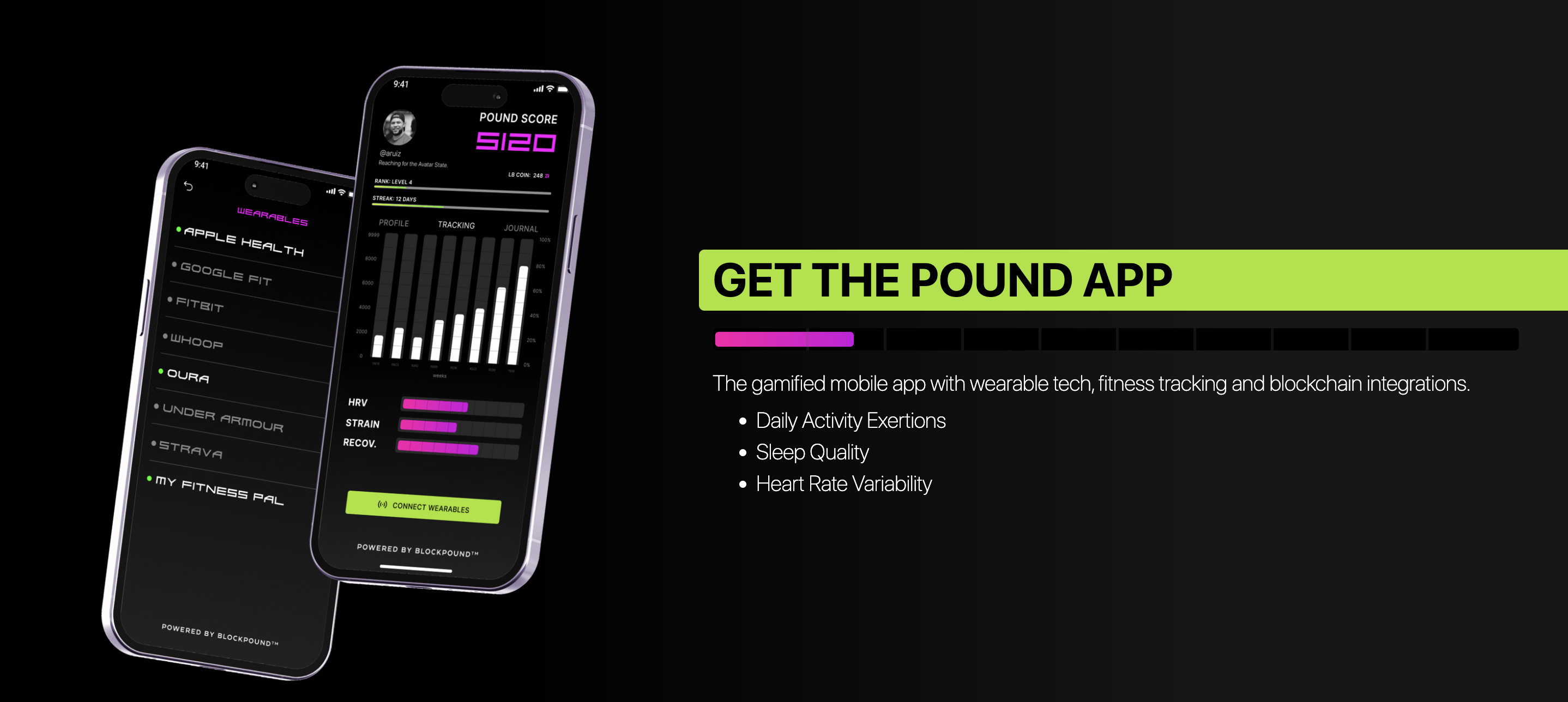 BlockPound continues to gain traction with new team members and strategic partnerships
Published

January 27, 2023 5:59AM UTC

Publisher

Wholesale Investor

Categories

Company Updates
BlockPound, the revolutionary blockchain-based fitness tech and gaming platform, is pleased to announce the appointment of our Chief Behavior Economist, Nathan Van den Bosh, the addition of Hector Melendez, an Esports performance expert, Robert Cole, a seasoned marketing professional, and experienced full stack developer to our team. These new hires will enhance the company's capabilities and support our rapid growth.
In addition to expanding our team, BlockPound has also established several strategic partnerships with industry leaders such as:
**Rook Motion**: The partnership with *Rook Motion* allows BlockPound™ to integrate biomarker insights into POUND™ app, providing users with data-driven recommendations and a more customized and engaging user experience. This partnership brings value to the company by providing users with a more personalized and effective fitness solution, which can increase user engagement and motivation.
**Altura NFT**: The partnership with Altura NFT provides BlockPound™ with the ability to build and scale its game economy with Web3 technology. The platform and tools that *Altura NFT* provides make integrating and managing Smart NFTs in the game easy, without the technical complexity of web3. Additionally, the Altura marketplace allows BlockPound™ to promote its game to a massive community of web3 gamers and enthusiasts, which can increase user engagement and revenue streams.
**Ready Player Me**: The partnership with *Ready Player Me* allows BlockPound™ to integrate *Ready Player Me* avatars into our app and game. This partnership brings value to the company by allowing users to create a more personalized and engaging experience. Additionally, it supports web, Unity, Unreal, React Native, Android, and iOS native, which makes the integration process easier.
**BrandXchange**: Our partnership with BrandXchange, a leading web 3.0 consultancy, will enable us to create new revenue streams, grow our community, and transition to web 3.0. Together, we will strive to gain market share by building a collective that utilizes gamification and fitness technology.
These partnerships will help us to expand our reach and bring new and exciting opportunities to our community.
Our CEO said, "We are thrilled to welcome Hector, Robert, and our new developer to the team, and we are excited about the potential of our new partnerships. These additions and collaborations will help to cement our position as a leader in the blockchain gaming space and allow us to continue delivering cutting-edge and engaging experiences to our community."
Our community, The Compound, has grown to 4,000 members, and the company has 13,000 followers on Twitter. This strong and growing community is a testament to the value and excitement that BlockPound is bringing to the gaming and blockchain space. We invite all investors to learn more about our vision, team and partnerships by accessing our deal room.
Capital Raising Tips
Capital raising is a critical aspect of business growth and expansion. However, many entrepreneurs and business owners often approach it as a one-time event rather than a continuous process. In a recent conversation with an investment banker and an investor, I gained valuable insights into the importance of viewing capital raising as a process. This […]
Capital Raising Tips
The journey of capital raising is fraught with excitement, anticipation, and, unfortunately, pitfalls. Steve Torso, CEO & Co-Founder of Wholesale Investor, addresses one of the most common yet costly mistakes founders make during this process: negotiating with only one investor at the table. The Allure of the Single Investor It's a scenario many founders have […]
Capital Raising Tips
In the realm of startups and capital raising, a pitch deck is your passport to securing potential investment. With countless templates and software available to help craft the perfect pitch deck, one might assume that all essential elements are covered. However, Steve Torso, CEO & Co-Founder of Wholesale Investor, points out a commonly overlooked yet […]
Backed By Leading Investment Groups and Family Offices