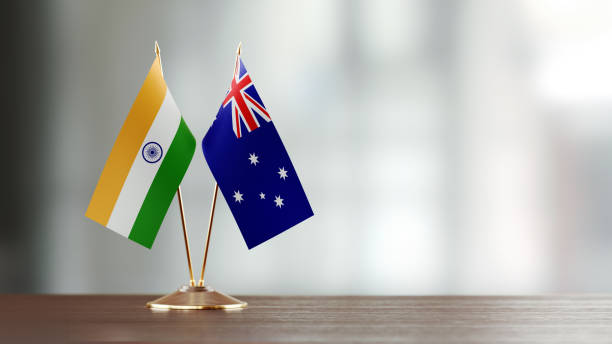 Australia-India Pact: A Strategic Vision for Mutual Economic Triumph
Published

October 04, 2023 11:00PM UTC

Publisher

Wholesale Investor

Categories

Capital Insights, Events, Trending
In a keynote address at Venture & Capital Sydney, Ram Gorlamandala, Founder & CEO at Tat Capital, provided valuable insights into the burgeoning Australia-India partnership. This pivotal discussion revolved around economic growth, fiscal reforms, infrastructure development, sustainability, the rise of startups, and the promising future of collaboration between the two nations.
India's Economic Growth and Potential
India currently boasts a per capita income of approximately $2,500, a fraction of China's $13,000. This places India on a trajectory akin to where China stood two decades ago. With domestic credit at just 55% compared to a global average of 148%, India's growth potential is undeniable. Over the past 75 years of independence, India's GDP has surged to $3.5 trillion, making it the world's fifth-largest economy. The country's youthful demographic, with an average age of 29, further fuels this economic engine.
Crucially, India exhibited resilience during the recent pandemic, experiencing a shallow downturn. Foreign direct investments (FDI) surged, and the nation currently enjoys a growth rate of 6.8%, double the global average. This, coupled with rising commodity prices, dispels concerns of a looming recession, firmly establishing India as a thriving consumer market.
Key Fiscal Reforms and Infrastructure Development
India has embarked on a journey of economic transformation through key fiscal reforms. The production-linked incentives (PLI) scheme is alluring global manufacturers such as Foxconn and Tesla to establish manufacturing hubs within India. The semiconductor industry is a particular focus, with India aspiring to become a significant player. Additionally, the PM Gati Shakti National Master Plan aims to revolutionise logistics and multimodal connectivity.
Infrastructure development is integral to India's growth trajectory. Urban railway infrastructure is booming, with plans to construct a staggering 7,000 kilometers of railway networks. The aviation sector is set to witness remarkable expansion, projecting 1.5 billion annual trips to India by 2047. India, already contributing 17% to global manufacturing, is poised to benefit from supply chain diversification trends.
India's Focus on Sustainability and Technology
Sustainability takes center stage in India's economic strategy. The nation is the world's fourth-largest producer of renewable energy and has committed $1 trillion by 2030 to establish an International Solar Alliance network. The objective is to escalate non-fuel-based energy capacity to 500 gigawatts by 2030 and attain net-zero emissions by 2070.
Technology remains India's core strength. The country has transitioned from an offline, cash-driven, informal economy to a cashless, formal, and high-productivity digital economy. With a population of 1.3 billion, India has cultivated a robust digital identity stack and leads in fintech adoption. Digital transactions have soared, and India is recognised as one of the world's most affordable data providers. This digital revolution has formalised jobs, fostered financial inclusion, and widened access to credit for small and medium-sized enterprises.
The Rise of Indian Startups
India's startup ecosystem has undergone exponential growth, solidifying its global presence. Although the venture capital industry in India contracted by 0.7%, it remains a vibrant space. Sectors poised for high growth include edtech, fintech, mobility, autonomy, healthcare, human resources, supply chain, and food tech. India boasts 108 unicorns, collectively valued at $350 billion, attracting investments and generating wealth through IPOs, trade sales, and employee share option buybacks.
The Australia-India Partnership
The Australia-India partnership is gaining momentum, fostering increased trade and collaboration. Australia's trade with India contributes significantly to its GDP, with trade dynamics shifting positively. The growth rate of trade between Australia and India is a staggering 71%, outstripping the 7% growth rate between Australia and China. The free trade agreement between the two nations has already resulted in an additional $25 billion in trade within eight months.
Australian startups are increasingly eyeing India as a market for expansion. Notably, major tech-enabled Australian startups are establishing a presence in India, indicative of the burgeoning potential for collaboration and growth. Collaborations like the one between Olympia, an Indian-listed company, and SimplyBiz, an Australian joint venture partner, aim to facilitate the distribution of Australian consumer brands in India.
Conclusion and Future Outlook
The Australia-India partnership stands on the cusp of unprecedented growth and collaboration. India's economic dynamism, fiscal reforms, infrastructure development, sustainability focus, and thriving startup ecosystem make it an enticing prospect for Australian enterprises. The shifting trade dynamics and the free trade agreement herald new horizons for cooperation. As Indian startups flourish and Australian companies increasingly explore the Indian market, the foundation for future collaboration and mutual growth is robust.
By 2047, India aspires to be a $32 trillion economy and the world's second-largest economy. Gender parity, women's empowerment, and women-led development are integral to this vision. The future of the Australia-India partnership is bright, promising increased investments, trade, and innovation. As both nations fortify their bonds, a prosperous future beckons across various sectors, including technology, manufacturing, and sustainability.
In summation, the Australia-India partnership is poised to create fresh avenues for growth and drive economic prosperity for both nations. India's rapid development, focus on sustainability, and burgeoning startup ecosystem present abundant opportunities for collaboration and mutual advancement. As trade dynamics evolve and the two nations deepen their ties, the future appears promising, offering Australian businesses ripe opportunities to explore and leverage the Indian market. Together, Australia and India can chart a course toward a prosperous and sustainable future.
Capital Raising Tips
Capital raising is a critical aspect of business growth and expansion. However, many entrepreneurs and business owners often approach it as a one-time event rather than a continuous process. In a recent conversation with an investment banker and an investor, I gained valuable insights into the importance of viewing capital raising as a process. This […]
Capital Raising Tips
The journey of capital raising is fraught with excitement, anticipation, and, unfortunately, pitfalls. Steve Torso, CEO & Co-Founder of Wholesale Investor, addresses one of the most common yet costly mistakes founders make during this process: negotiating with only one investor at the table. The Allure of the Single Investor It's a scenario many founders have […]
Capital Raising Tips
In the realm of startups and capital raising, a pitch deck is your passport to securing potential investment. With countless templates and software available to help craft the perfect pitch deck, one might assume that all essential elements are covered. However, Steve Torso, CEO & Co-Founder of Wholesale Investor, points out a commonly overlooked yet […]
Backed By Leading Investment Groups and Family Offices